Yahoo Finance is a widely known financial site that provides fundamental, historical and tick data for a wide range of markets. Although data from Yahoo Finance is free and relatively fast, it frequently contains small mistakes so if reliable data is critical, you need to double check. Yahoo Finance currently limits data downloads to 2000 requests per hour.
Stock Portfolio Organizer provides three different data feed plugins that utilize Yahoo Finance one for EOD historical data, one for tick data and the other for fundamental data. To use one of the Yahoo Finance data feed plugins open the 'Data Feeds' window, which should look similar to the one below: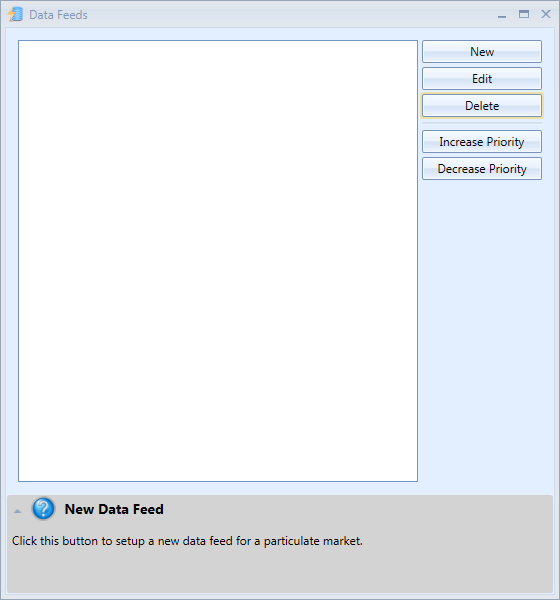 Next, click 'New' then select which, Yahoo Finance data feed plugin you wish to use. The window should look similar to the following: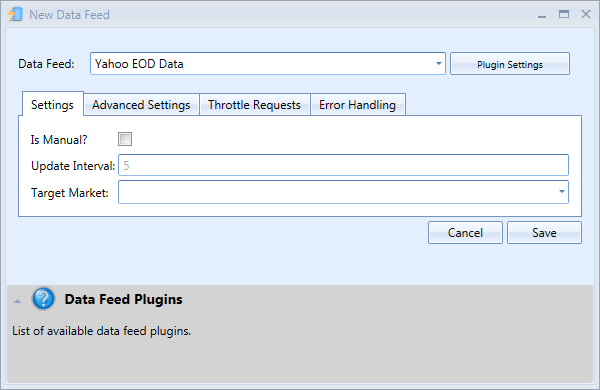 The recommended defaults are usually loaded soon as you select the data feed plugin from the drop down menu. In this case the plugin will be throttled to 2 requests per second. This is a bit faster than the 2000 requests per hour but from our testing most users are unlikely to hit the limit. Next, select the 'Target Market' that the plugin will be downloading data for. Once that is done click 'Plugin Settings'. The 'Plugin Settings' window should look similar to the following: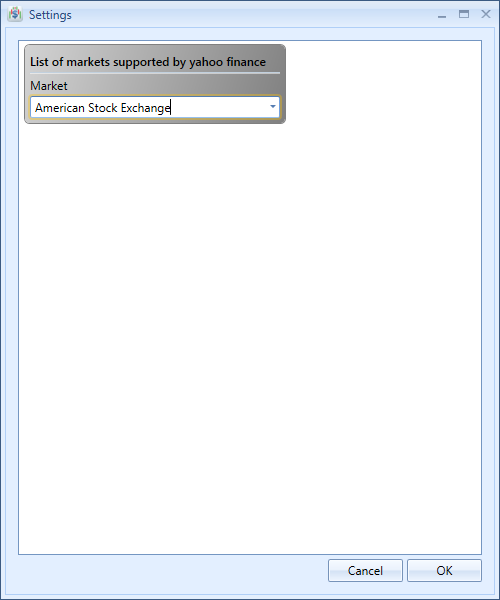 Here you need to select the market the plugin will be downloading data for. It is important that you select the correct market since behind the scenes ticker symbols will have the correct market suffix added to them so that the correct data will be fetched. You can read more about ticker symbols and market suffixes here. When the settings have been edited, click 'OK' to save them and close the window and then 'Save' again. In a few moments the data feed should start running and downloading data (if applicable). If you run into any problems, try reading the trouble shooting guide here.